Sunday-EXTRA
—————————–
*BOOTS ON THE GROUND-
DOJ Sends Prosecutors, Coordinators to Address Crime Problem in Chicago:
Attorney General 
Jeff Sessions
 added violent crime prosecutors to Chicago to create a 
Gun Crimes Prosecution Team
 at the local U.S. Attorney's office, the 
Justice Department
 announced. The move comes weeks after
President Trump
 ordered Sessions to work with law enforcement and reduce crime, the 
DOJ
 sent additional resources to U.S. Attorney 
John Lausch
 for the new prosecution team to make sure "Chicago's most dangerous criminals are charged quickly after arrest and prosecuted."

The department also announced the 
Bureau of Alcohol, Tobacco, Firearms and Explosives
 assigned five 
Violent Crime Coordinators
 to Lausch's existing "
Project Safe Neighborhoods
" team so they can conduct a "daily review of firearm arrests and seizures… to ensure the most violent firearm offenders are promptly and effectively prosecuted in federal court."

The Justice Department previously called the 
Chicago Police Department
's agreement with the 
ACLU
 to fix the city's crime problem unsuccessful after 2016 saw the "biggest single-year increase" in the murder rate. In recent rallies, the president has called for the stop-and-frisk policy to be implemented in Chicago to bring down crime.

"At a fundamental level, there is a misperception that police are the problem and that their failures, their lack of training, and their abuses create crime," Sessions wrote in the announcement. "But the truth is the police are the solution to crime, and criminals are the problem."
*In-N-Out boss is 36 years old,
a billionaire and beloved
by her employees:
In-N-Out Burger 
president 
Lynsi Snyder
 is the youngest woman on the latest 
Forbes 400
 list of the richest Americans.
The 36-year-old is not only worth a fortune at $3 billion, but she also boasts sky- high approval ratings. According toGlassdoor, Snyder's support from employees stands at 99 percent.
Forbes reports that workers of the family-run burger chain enjoy a better-than-average quality of life. Restaurant workers make $13 an hour, compared to $9 at McDonald's, and they're eligible for health insurance. Managers, who on average have been with the company for 17 years, make about $163,000.

*As Large Groups of Illegal Aliens Keep Pouring In, A Majority Have 3 U.S. Destinations in Mind:
Border patrol agents say they continue to apprehend large groups of illegal immigrants, many from Guatemala, who increasingly are being led into remote desert areas of the United States by human smugglers who have deceived them with promises of financial gain and protected immigration status.
"Multiple areas along the Yuma and Ajo (Arizona) corridors are being exploited by criminal organizations," Customs and Border Protection announced.
Based on interviews with members of these large groups, CBP said a "majority" of the illegal immigrants have three final destinations in mind: Charleston, S.C.; Oakland, Calif.; and Homestead, Fla.

*Dershowitz: Dems 'Hypocritical' for Calling for Kavanaugh's Impeachment:
Liberal Harvard Law professor 
Alan Dershowitz
 told 
Fox News
 that it would be "absolutely foolish, inconsistent, and hypocritical" for Democrats to try to impeach Supreme Court Justice 
Brett Kavanaugh
, considering they were against former President 
Bill Clinton
 being impeached for "lying about his sex life."
"That would be absolutely foolish, inconsistent, and hypocritical. Those who believe that Bill Clinton should never have been impeached for allegedly lying about his sex life are now going to lead the campaign to impeach Kavanaugh for allegedly lying about his sexual and drinking activities back when he was a 17-year-old. It's hypocrisy run rampant," Dershowitz said.

*Legal Immigrants Subsidized Cost of DACA Applications to the Tune of $316.5M Since 2015:
The cost of adjudicating 
DACA
 applications has been subsidized by other immigration benefits applicants to the tune of $316.5 million over the last three years, according to information released by 
USCIS
.
This subsidy was needed because the Obama administration did not impose an application fee for DACA status. Most immigration benefits applicants pay for the application for the status they are seeking, with additional fees for a work permit and fingerprint collection; DACA applicants only had to pay for the work permits and fingerprints, leaving legal immigrants and visa applicants to pick up the tab for the cost of adjudicating their eligibility for DACA.
USCIS is funded almost entirely by the fees it collects from applicants and their sponsors. It is required by law to set the fees at a level that covers the full cost of adjudicating the applications. Periodically, the agency goes through a very complex process to determine these costs, and then publishes a proposed fee schedule, which is open to public review and comment.

*STOP FAKE NEWS–READ LBN EXAMINER:
While over two-thirds of American adults say they at least occasionally get news on social media, 57 percent say they are concerned that the information they see is inaccurate, according to new data released by 
The Pew Research Center
. Pew's survey found that even among those who say they prefer to get their news from sites like 
Facebook
 and 
YouTube
, 42 percent said that they expect the news they see to largely be inaccurate.
Now YOU can invite your friends, family, and associates (if they've got the guts) by telling them to go towww.LBNExaminer.com

*EXAMINER-INVESTIGATES:
TOXIC- Cancer-Causing Metal Found in
National Retailers' Jewelry
Jewelry found on the shelves of huge national retailers—such
Ross
, 
Nordstrom Rack
, and 
Papaya
—contains the toxic cancer-causing metal cadmium, the 
Associated Press
 reports. Research carried out by the nonprofit 
Center for Environmental Health
 shows that some jewelry sold with dresses and shirts is nearly pure cadmium, which is known to cause cancer and reproductive harm after prolonged exposure. Some states have banned the metal from being used in children's jewelry, but there are no laws preventing it from being used in jewelry for adults.
Lab testing found 31 adult jewelry items purchased from retail stores were at least 40 percent cadmium, and most were more than 90 percent. Most of the tainted items were sold at Ross, with one pendant from a necklace chain being 100 percent cadmium. The company said it has "addressed this issue with our supplier."

*EXAMINER–INVESTIGATES:
In 2001, Argentina had 5 presidents in 10 days.
*WHO READS EXAMINER?:
Actress 
America Ferrera
 along with along with 12 members of the 
White House
 staff, 3 
Nobel Prize
 winners, over 100
Academy Award
 winners, 6 
U.S. Senators
, and over 300
Grammy Award
 winners.
*EXAMINER-ENTERTAINMENT NEWS:
American Music Awards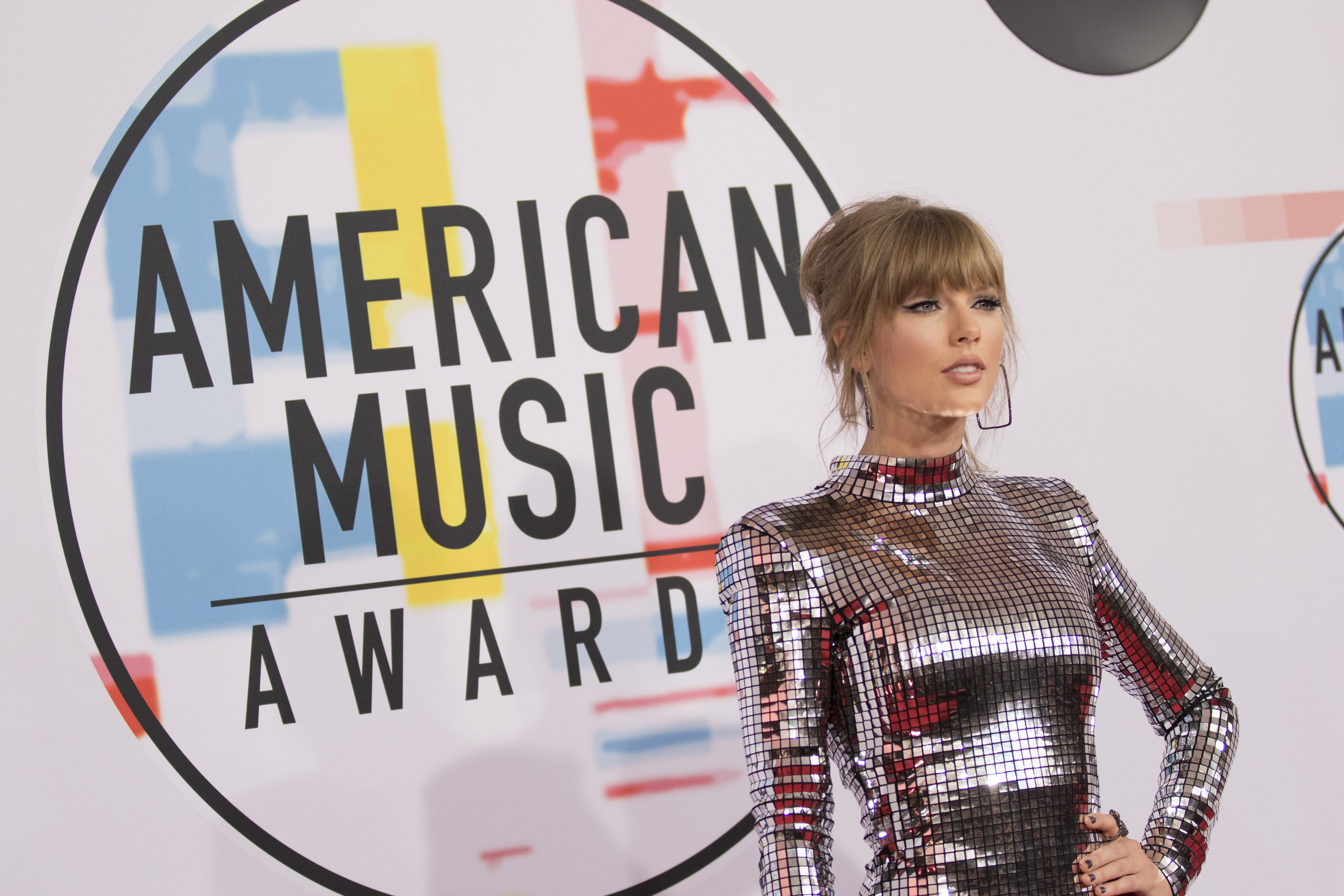 American Music Awards
 Ratings Plummet to Record Low as Entertainers Push Politics.
Ratings for ABC's broadcast of the American Music Awards (AMA) plummeted to an all-time low, as viewers apparently feared they'd be subjected to unwanted celebrity political preaching.
The three-hour program lost 25% of its 18-43 year-old viewers (1.8 rating/6.5 million viewers) from 2017, Variety reported Wednesday. The overall broadcast audience (2.4 rating/9.2 million viewers) suffered an even steeper decline of 29%.
"This is the latest example of an awards show seeing serious declines year-over-year. Back in September, the Emmy Awards on NBC also put up an all-time low," Variety notes.

*EXAMINER–VIDEO LINK:  
*EXAMINER-SPOTLIGHT:
Dr. Srini Pillay, Best-Selling Author & Neuroscientist, Studies Brain Science to Improve Human Relationships
Dr. Srini Pillay
, neuroscientist and best-selling author of
TINKER DABBLE DOODLE  TRY
, delves deep into brain science to reveal what people can do to improve the relationships within their lives.
He believes that brain science can be used by individuals to better perceive, understand, evaluate, and respond to people.
"The somewhat bizarre fact of life," Dr. Pillay explains, "is that people who are in our lives are not simply who they actually are. They are some interesting mix of who they are and what we make of them in our brains. If we understand the ways in which relationships impact our brains, we can change our brains to alter the ways in which we interact with others too."
Transference is the first of two phenomena that Dr. Pillay talks about in relation to this concept. This is when conversational partners activate earlier memories when communicating. These knee-jerk reactions occur due to the brain's tendency to make non-conscious predictions based on earlier life experiences.
The best way to avoid this? Dr. Pillay states that the solution is simple. "Introduce new self-reflections and possibly even points of discussion when you find yourself engaged in a conflict. This can make for an interesting discussion when trying to resolve an argument."
The second phenomenon that Dr. Pillay warns about is emotional contagion. This is when emotions are transferred from one person to another person without them even knowing about it. For example, someone who spends a large amount of time with negative-minded people will grow to view things with a more negative mindset as well.
Dr. Pillay stresses that individuals should be aware of their emotions and what could be causing them in any given situation. "In interactions with friends, colleagues, or romantic partners, be aware that their negative emotions could throw you in a negative state, even if you do not actually feel negative." Dr. Pillay states.

*EXAMINER–VIDEO LINK:
             *EXAMINER–COMMENTARY by David Brooks:
Over the past few years, hundreds of organizations and thousands of people (myself included) have mobilized to reduce political polarization, encourage civil dialogue and heal national divisions.
The first test case for our movement was the Kavanaughhearings. It's clear that at least so far our work is a complete failure. Sixty-nine percent of Americans in one poll called the hearings a "national disgrace," and the only shocking thing is that there are 31 percent who don't agree.
What we saw in these hearings was the unvarnished tribalization of national life. At the heart of the hearings were two dueling narratives, one from Christine Blasey Ford and one from Brett Kavanaugh. These narratives were about what did or did not happen at a party 36 years ago. There was nothing particularly ideological about the narratives, nothing that touched on capitalism, immigration or any of the other great disputes of national life.
And yet reactions to the narratives have been determined almost entirely by partisan affiliation. Among the commentators I've seen and read, those who support Democrats embrace Blasey's narrative and dismissed Kavanaugh's. Those who support Republicans side with Kavanaugh's narrative and see holes in Ford's. I can think of few exceptions.

     *EXAMINER–COMMENTARY by Thomas L. Friedman:
I began my journalism career covering a civil war in Lebanon. I never thought I'd end my career covering a civil war in America.
We may not be there yet, but if we don't turn around now, we will surely get where we're going — which was best described by Senator Jeff Flake on Monday: "Tribalism is ruining us. It is tearing our country apart. It is no way for sane adults to act."
Sure, we've experienced bouts of intense social strife since theAmerican Civil War of 1861. I grew up with the assassination of Martin Luther King and raging street battles over civil rights and Vietnam. And yet this moment feels worse — much less violent, blessedly, but much more broadly divisive. There is a deep breakdown happening between us, between us and our institutions and between us and our president.
We can't find common ground on which to respectfully disagree; the other side is "the enemy." We shout at each other on television, unfollow each other on Facebook and fire verbal mortars at each other on Twitter — and now everyone is on the digital battlefield, not just politicians.

*EXAMINER-A DIFFERENT VIEW:….
Hollywood Icon- Ava Gardner 1945
LBN Examiner Edited By: Renee Preston
LBN Examiner Disclaimer: 1.) The LBN Examiner accepts no liability for the content of this email, or for the consequences of any actions taken on the basis of the information provided. The LBN Examiner is not associated with any commercial or political organization and is transmitted via the web for the sole benefit of its subscribers. 2.) Unfortunately, computer viruses can be transmitted via email. The recipient should check this mail and any attachments for the presence of viruses.