SUNDAY-EXTRA
————-
*Gun Deaths in the U.S. Hit Highest Level in Over 20 Years:
The rate of gun deaths in the 
U.S.
 has hit its highest level in more than 20 years, with almost 40,000 people killed in shootings in 2017, according to new government figures. The numbers from the 
Centers for Disease Control and Prevention 
show 39,773 people in the U.S. lost their lives after being shot or shooting themselves in 2017. That represents a total of 12 deaths per 100,000 people—up from 10.1 in 2010 and the highest rate since 1996.
According to a recent study in the Journal of the American Medical Association, that compares with rates of 0.2 gun deaths per 100,000 people in Japan, 0.3 in the U.K., 0.9 inGermany, and 2.1 in Canada.
Suicide is by far the greatest killer, accounting for about 60 percent of all gun deaths. Almost 24,000 people, or 6.9 per 100,000, killed themselves with a gun in 2014—that's up from 6.1 in 2010 and 5.9 in 2000. Last year also saw the deadliest mass shooting by an individual to take place modern U.S. history, when 58 people died in a massacre on the Las Vegas Strip.
*Over 40 Percent of Americans Say No to Flu Vaccinations: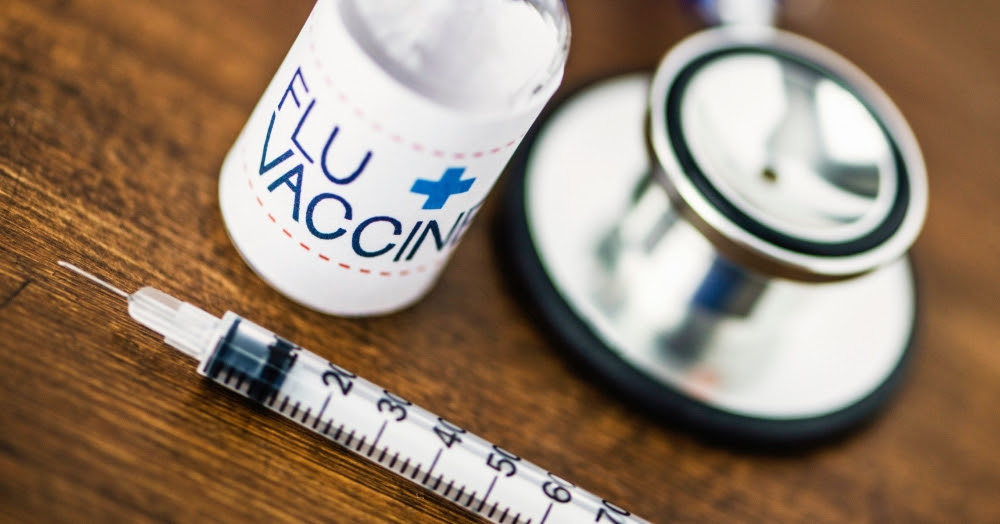 Have you gotten your flu shot this year? If the answer is no – and I'm not getting one! – you're not alone. A new study finds more than 40 percent of Americans have not been vaccinated and, in fact, don't plan on it either. This is despite the warnings, potential dangers, and last year's record-number of flu deaths. The survey was done by the National Opinion Research Center at the University of Chicago.
People under the age of 45 were the least likely to report being vaccinated. The top three reasons why they didn't want the shot were: bad side effects; thinking they'll get the flu from the shot; or thinking it doesn't work.
Some think the side effects are worse than the flu itself, but that's just a myth. Usually the only side effect is a sore arm. It's also a myth that getting the vaccine gives you the flu. The flu vaccine is inactive and cannot cause the infection. If you do get sick after getting the vaccine, it's just a coincidence.
And while it is true that the vaccine doesn't work 100 percent of the time, the benefit is that it lessens the severity. If you do still get the flu you're 60 percent less likely to need treatment.

*DHS: New Border Wall Stops 'Violent Mob of 1,000 People' – 'No Breaches':
"Walls Work," the U.S. Department of Homeland Security (DHS) declared Wednesday, highlighting how new wall inCalifornia successfully thwarted "a violent mob of 1,000 people" on Sunday – without a single breach:
"On Sunday when a violent mob of 1,000 people stormed our Southern border, we found the newly constructed portions of the wall to be very effective."
"All of the individuals were either apprehended or retreated intoMexico. That evening, the fence was repaired. There were no breaches along the newly constructed border wall areas."
But, in places where wall had not yet been constructed, the outdated fencing was breached by the violent mob, which assaulted border agents, DHS reports.

*GO WHERE THE MONEY IS! –
5 Richest Counties Still D.C. Suburbs; 10 of Nation's 20 Richest Counties
in D.C. Area:
The five richest counties in the United States when measured by median household income are all still suburbs ofWashington, D.C., according to American Community Survey data released today by the Census Bureau.
In fact, ten of the top twenty richest counties in the country are suburbs of Washington, D.C., according to this new data.
The same five suburban Washington, D.C., counties that were the richest in the country according to estimates that the Census Bureau released last year are also the five richest this year. However, their rankings have changed slightly in the new data release: Fairfax County, Va., and Howard County, Md., moved ahead of Falls Church City, Va.

*FIND OUT THE REAL SCORE–READ LBN EXAMINER:
An incredible 84% of our readers in all 50 of the United Statesand 26 foreign countries find LBN Examiner "fearlessly independent" and "unbiased."

*EXAMINER-INVESTIGATES:
A Report Card: Which States Have the Worst Infrastructure?
1. Rhode Island:
Number of Bridges Deficient: 23.2%
% of Poor Roads: 70
Grade: F
2. New Hampshire:
Number of Bridges Deficient: 10.9%
% of Poor Roads: 54
Grade: F
3. Maine:
Number of Bridges Deficient: 13.3%
% of Poor Roads: 53
Grade: D-
4. Connecticut:
Number of Bridges Deficient: 7.8%
% of Poor Roads: 73
Grade: D
5. West Virginia:
Number of Bridges Deficient: 19%
% of Poor Roads: 47
Grade: D
6. Maryland:
Number of Bridges Deficient: 5.6%
% of Poor Roads: 55
Grade: D
7. New York:
Number of Bridges Deficient: 10.5%
% of Poor Roads: 60
Grade: D
8. New Jersey:
Number of Bridges Deficient: 8.8%
% of Poor Roads: 66
Grade: D+
9. Massachusetts:
Number of Bridges Deficient: 9.3%
% of Poor Roads: 42
Grade: D+
10. Mississippi:
Number of Bridges Deficient: 11.8%
% of Poor Roads: 51
Grade: D+

*EXAMINER-INVESTIGATES:
30 percent of U.S. Medical School Graduates become primary care doctors, compared with 70 percent worldwide.

*EXAMINER–VIDEO LINK:
Episode #2 of the "Without Notes" interview with acclaimed attorney Robert Shapiro: https://www.youtube.com/watch?v=POrIKae1J4E


                          *EXAMINER–MEDIA INSIDER:
The Weekly Standard went out of business on Friday—killed by representatives of right-wing Colorado billionaire Philip Anschutz, who purchased the respected 23-year-old conservative magazine from its original owner, Rupert Murdoch, in 2009 for a reported $1 million.
"We are done," Stephen F. Hayes, the Standard's editor-in-chief, told his staff of nearly 40 Friday morning, after a brief meeting with executives of Anschutz's Clarity Media Group inWashington, D.C. The death notice was widely expected, and Hayes and the magazine's founding editors, including Never Trump conservative pundit Bill Kristol, had spent months attempting to organize a consortium of buyers to save the publication.
*EXAMINER-SPOTLIGHT:
Cannabis King BigMike, Founder of Advanced Nutrients, to Marry Bulgarian Supermodel 
At sunset, November 18, on the Caribbean island of Anguilla,BigMike Straumietis presented Ceci Krasimirova with a flawless diamond ring. Among the rarest and purest on earth, fewer than two percent of all diamonds fall into the flawless category, and such gemstones were typically reserved throughout history for kings and queens alone.
BigMike and Krasimirova's relationship began over a decade ago in Bulgaria. Upon being introduced at a mountainside restaurant, BigMike was floored by Krasimirova's unique beauty and stunning blue eyes. The pair hit it off and began a long, private, romantic courtship. Because Krasimirova did not speak much English and BigMike had yet to begin learningBulgarian, at first the couple communicated through a translator.
Over the past decade, BigMike and Krasimirova's courtship has transformed into true and lasting love. The power couple stands poised to propel their many business ventures to new heights, and look forward to potential collaborative endeavors in the future as well.

*TELL YOUR STORY TO ALL "INFLUENTIAL"
EXAMINER READERS:
Now you can tell your unique story to the "influential" 
Examiner
readers in all 50 of the 
United States
 and 26 foreign countries.
For the last 16 years, the LBN Examiner (www.LBNExaminer) has been read and trusted by some of the world's most important people —- ***3 Nobel Prize winners   ***12 members of the White House staff   ***Over 100 winners of theAcademy Award   ***6 U.S. Senators    ***Over 300 winners of the Grammy Award.
Called "one of the best message bargains on the web", you can now tell YOUR story with a maximum of 200 words with one photo and your web link for the low cost of $200.
And the best part – it's simple! Send us your message (maximum 200 words) with your photo and web link. We will approve and run and you can pay via PayPal, Credit Card or check – your convenience.
Send your Examiner message to:
Ms. Aurora DeRose,
E-mail: Aurora411@TimeWire.net

*WHO READ LBN EXAMINER?
Comedian 
Ellen DeGeneres
 along with 12 members of the
White House
 staff, 3 
Nobel Prize
 winners, over 100 
Academy Award
 winners, 6 
U.S. Senators
, and over 300 
Grammy Award
 winners.
*EXAMINER–COMMENTARY by Lance Morrow:
Outrage has become the signature emotion of 
American
 public life. People are so used to it—the noise, the flying spittle—that they were pleasantly surprised when 
Rep.-elect Dan Crenshaw
 of 
Texas
 declined to be incensed. He is the former
Navy SEAL 
who lost an eye in 
Afghanistan
 and was mocked—more stupidly than viciously—for his eyepatch by a performer on "
Saturday Night Live
."
The insult called for outrage, in the usual tit-for-tat. But instead Mr. Crenshaw took it in good humor. He went on "SNL" to accept the performer's apology. Not everything needs to be treated as an outrage, he said—a grown-up in a moment of grace.

*EXAMINER–COMMENTARY by Maureen Dowd:
The 
Clinton
's pathological need to be relevant in 
America
 is belied by a 
Canadian
 arena, where stretches of empty seats bear witness to the passing of their relevance. It's a pity.
*EXAMINER–A DIFFERENT VIEW:….
LBN

 Examiner Edited By:  Cedric Houle